ALDER LAKE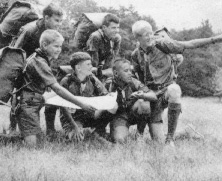 NORTHEAST 56" ELEVATION 3720 FEET
"Yes, that's the way to Balsam Round Top, only 3,723 feet up - we'll make it by 3 P.M."
That is the story of Alder Lake, the Buckskin plan of Troop Camping, where the Patrol operates at it's finest and the Troop Leader Council runs the show.
This beautiful new camp, called the Henry Goldman Scout Camp, nestles in the foothills of the world famous Catskills.
The tremendous challenge of this camp also provides its campers with an opportunity to learn of the great history of the area.
The Alder Lake camping experience provides not only an opportunity to enjoy camping, but to also relive a little of the past.
---
WAUWEPEX
PRIVATE MOMENTS
50 miles from the center of Nassau County Council lies the finest fresh water lake on Long Island. It was "discovered" in 1921 by "Chief Covey" and "Southy" and was first used as a camp in 1922. Since then countless thousands of young men have participated in its many exciting programs. They still recall their unique camping experience amid its beautiful settings. Camp Wauwepex has unsurpassed swimming and boating facilities, Craft and Indian Lore Lodges, Rifle, Archery and Skeet Ranges, and fishing for Bass and Pickerel.
A Scout can find himself quickly and develop the skills of living in camp under its selected staff. Camp Wauwepex offers both Home Trrop Camping and a chance for an individual Scout to have a fine camping experience with a full program of advancement.
---
WEBELOS-DAD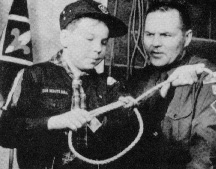 THAT'S A BOWLINE!
THE BIG event in the lives of a Webelos and his dad is the popular summer weekend at Camp Wauwepex.
This year because of the great demand we will again have two special weekends during the camp season.
The dates are July 14-15 and August 11-12, 1973. Applications with all the details will be ready for roundtables in February. The cost will be $5 per person which includes three meals, swimming, scout skills, games and an exciting campfire. All of the facilities, including tents, beds and equipment will be provided. You bring your bedroll and personal equipment and spend a great Saturday and Sunday.
GENERAL CAMP INFORMATION
Troop Camping - Most Scouts attend camp as members of their own Troops and under the leadership of the Troop. All Scouts attend Alder Lake under this plan as do Scouts attending Onteora except those participating in one of the special programs. Many Scouts attend Camp Wauwepex as a member of their own Troop. Troop camping offers the finest camping experience for each individual Scout, as well as strengthening the troop organization and operation.
Individual Camping - Scouts may attend Camp Wauwepex as individual campers and will become part of a "Provisional Troop" at camp. Onteora offers various special programs; leadership development, conservation, Delaware Canoe trip.
Cancellations and Refunds - Refund of the camp fee (exclusive of registration deposit) will be made only by written cancellation to the Council Office prior to the start of the camp period. Scouts medically excused from camp by the Camp Nurse or Camp Director will be issued a refund record card, for the unused portion of the fee (exclusive of deposit).
Entering and Leaving Camp - All Scouts and Leaders MUST check in or out at the Camp Office as they enter or leave camp. Scouts are not permitted to leave camp on visitors' day unless they have been checked out to go home. A check-out card signed by the Camp Director must be obtained.
Religious Services - Resident chaplains at each camp are available for guidance and consultation throughout the camping season. Religious services are conducted according to the tenet of the Scout's faith.
Health & Safety - Nassau County Council operates under strict New York State Health Department regulations. Please leave pets at home. Each camp has a fine well-equipped Health Lodge staffed by a qualified nurse and camp personnel and supervised by the Camp Doctor. Each Scout must present a Health & Medical form #4410, completed by your own physician before camp. These forms are to be secured from your
Scoutmaster and brought to camp by the individual Scout. Campers are covered by a medical re-imbursement plan as part of the camp fee.
Visitors at Camp - Visitors are welcome between the hours of 10 AM - 10 PM as listed below:
Onteora - Alder Lake: middle Saturday of each period. No cars are allowed inside camp proper, so
prepare for rough, hilly climbing, with proper sturdy shoes. Special programs are conducted this day: Council Retreat and Campfire.
Wauwepex: middle Sunday of each period. Cars are parked in limited areas so prepare for hiking with proper dress, sturdy shoes. Special aquatic activities,
retreat, and a campfire are featured.
Transportation - Scouts and Troops attending camp who need transportation may contact Schenck Bus Company ;516 354-0888 who organize all the details. Buses leave on a special schedule to Alder Lake and Onteora. Troop Leaders are advised that the transportation is the responsibility of the Unit/Parent.
Wauwepex - Long Island Expressway (NY495) east to exit 68 north - take William Floyd Parkway north 4 miles to NY 25, east three miles, turn left on Wading River - Manorville Road, 1 mile to entrance of camp.
Onteora - located in northern Sullivan County in the Western Catskills. It may be reached by taking the New York State Thruway to Harriman (exit 16). After the toll, stay on New York 17 for 65 miles to Livingston Manor (exit 96). Make a left, follow DeBruce Road for 2.1 miles. Make left on Grooville Road - 4.3 miles to camp.
Alder Lake - located in the Western Catskills north of Onteora. It may be reached by taking the New York State Thruway to Harriman (exit 16). After the toll, stay on New York 17 for 65 miles to Livingston Manor (exit 96). Make a right, follow to end. Make a second right on old 17 - follow for 1.5 miles. Make a third right on Beaverkill Road - follow for 10.5 miles. At American gas station, make fourth, right - follow for 1.5 miles. Cross steel bridge, make sharp left - follow for 3 miles to camp entrance.
Telephone - We ask parents not to call camp unless there is an extreme emergency. Each camp has one phone line for all incoming and outgoing calls, they are:
Wauwepex - 516 WA 9-4640
Onteora - 914 439-5687
Alder Lake - 914 439-5546
Trading Post - A trading post for Scouts and visitors features food, drink, gifts, special cups, equipment, and things Scouts love to have. Parents and friends are welcome to all services.
ONTEORA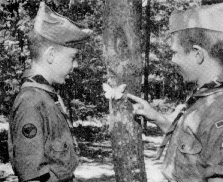 LOOK AT THE COLORS!
"LAND IN THE SKY" offers a wide variety of great camping opportunities to a Scout, a Patrol and to a troop. Select your program - when you want it, how you want it and where you want it. Just stop and think and look at what you can do!
COOKING: Three plans are offered, enabling a troop to cook one, two or three meals as, desired. A country store is available for the extras.
AQUATICS: Sailing experience, special aquatic training, together with Delaware Canoe trip (trailers available to handle canoes) and all regular swimming opportunities.
HIKING: 4000 acres to roam - get lost - get found and still be close to home base. Special trips to Frick Pond - Mongaup Pond --Fish Hatchery - Alder Lake or many other areas of the Catskills State Preserve.
These experiences call for top-notch leadership in the troop. All activities are included in the three plans of the camp program. The special programs of Leadership Development Camp; Conservation troop; and the Delaware Canoe Trip are for the leadership Corps exclusively. We recommend that Scouts take advantage of these programs before or after your troop goes to camp.
---
PHILMONT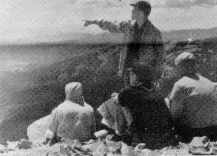 WE MADE IT!
ASK A SCOUT THAT HAS BEEN THERE! A LITTLE BIT OF HEAVEN AND A LOT OF HELL!! in the form of back breaking climbs, beautiful scenery; Sun and Hail; sweat and chills; that is the meaning of the Philmont Scout Reservation, way out in the mile high southwest near Cimarron, New Mexico.
We are looking for from 45 to 450 young men who feel that life is dull in Nassau County in the summer and a real challenge would brighten up their lives. This opportunity to be a Philmonter comes along about once in a lifetime and you should seriously think about it.
We have recruited Darrel Fleck to be the Expedition Leader for 1973. Darrel is a veteran Scouter,. Trained in Woodbadge, former Scoutmaster and holder of the Scouter Key. With him Scouts will be assured of outstanding leadership and a great experience.
The expedition this year will fly on United Airlines, tour colorful spots in the Colorado Area such as The Air Force Academy, Garden of the Gods, Manitou Incline, Koshare Indians and many other exciting places. The 11 day expedition in the 7000 foot Philmont, where "Old Baldy" and the Tooth of Time" awaits your heavy foot, sign up now.
The first meeting of the Philmont expedition will be held on Thursday February 22nd. 1973, at the Harkness Training Center. Oh Yes- the total fee is $295.00, call Council Office for application and further details.
---
KOSHER FOOD
Sidney M. Schwartz, Chairman of the Jewish Committee on Scouting, together with the camping committee, have developed a plan to serve Scouts who, because of their dietary requirements, must receive Kosher food. ONLY those Scouts who have indicated on their registration that they require Kosher food will be served.
Specially packaged food will be made available. The Dining Hall WILL SERVE THE REGULAR MENU, but individuals will be served special Kosher food as required.