For all of us who have dreamed about being the masked avenger, there were plenty of ways to indulge those fantasies.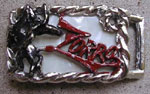 This belt buckle is made of painted metal. From Westminster Mfg.
---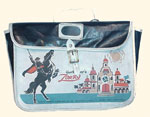 You could carry your Zorro books in style in this book bag . From National Leather Manufacturing Company, Inc., Brooklyn, NY
---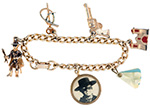 This 6" charm bracelet featured a small Zorro figure, gun, whip and sword, mission, folding fan, and most importantly, a picture of Guy Williams. These are hard to find today with all of the charms intact.
---

This little plastic flicker ring changes pictures as you tilt it. Sold in a set with the gloves from Wells Lamont shown below.
---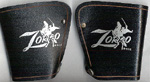 Made of leather, these cuffs were part of a holster set by Daisy. They could also be used to dress up street clothes or other costume parts.
---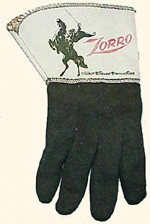 The Wells Lamont company produced both black gloves with decorated cuffs and blue gloves without the cuff. Sold with the flicker ring shown above.
---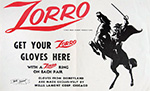 This sign let interested buyers know just where they could buy a pair of the Zorro gloves.
---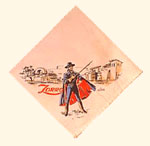 A variety of handkerchiefs were sold with varying artwork and colors.
---

If you were a boy this was the Halloween costume for 1957 and 1958. It was a best seller both years, and was available in standard, deluxe and playsuit editions. These costumes were the "Tickle Me Elmo" sensation of that time, with frantic parents looking everywhere trying to get one for their would-be Zorros. From Ben Cooper Inc.
---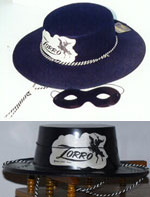 Several different Zorro hats were produced by licensee Benay-Albee. The one on top is made of felt, and the lower one is made of plastic. Both came with a mask.
---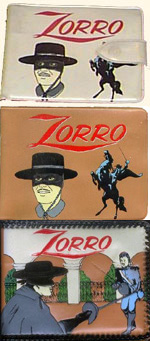 Plastic wallets and change purses were available in a variety of colors and designs.
---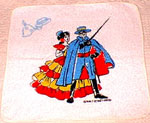 Made by Cannon, this washcloth was perfect for washing off trail dust after evading pursuing soldiers.
---

Produced by U.S. Time, this watch features the Zorro logo instead of artwork, and was packed with the watch wrapped around a miniature Zorro hat. People obviously prized these as they turn up fairly frequently these days. Be careful, though, as many of them no longer run! They are notoriously easy to over-wind and thereby render useless.
---