Here are all of the items that didn't readily fit into one of the other categories.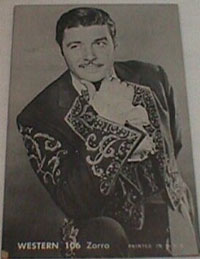 These cards were sold through vending machines. This one is from a series of Western stars, publisher unknown. It is the size of a postcard with a blank back.
---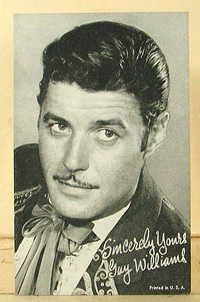 This arcade card was issued by the Exhibit Supply Company of Chicago. It is the same size as the prior card and also has a blank back.
---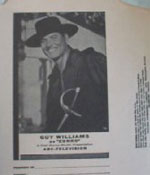 Remember when school kids would put covers on their text books?
---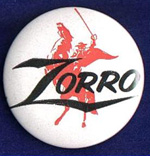 This pin-back button is from Australia.
---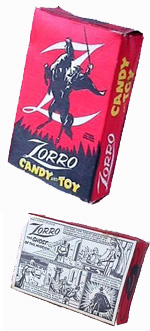 What could be better than this? Zorro, candy and a toy all in one neat package. It even has a comic strip on the back! Produced by the Super Candy Novelty Co. Known boxes include the stories "Señor Zorro" and "Ghost of the Mission"
---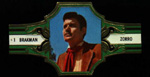 This paper cigar band is from candy or gum cigars - imagine trying to market these today! While this is the first one of these I have seen from Zorro, I do have others from different series.
---

There were several different Disney character erasers sold in a set. This is the only Zorro one.
---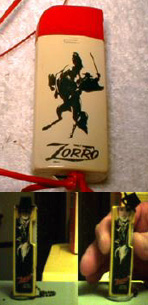 Bantam sold three different Zorro flashlights. In addition to the two shown here, a third was designed to be worn on the wrist, and featured three different colors of light.
---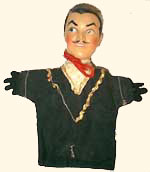 This hand puppet was manufactured by Gund. It was also sold in a boxed set with accessories.
---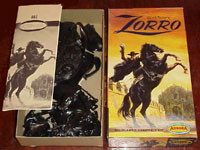 Modelers could build this plastic copy of Zorro and Tornado. Aurora catalog #801.
---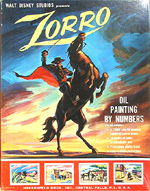 This set of four pictures for oil painting was sold by Hassenfeld Bros., which is perhaps better known as Hasbro.
---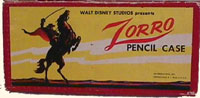 I'm sure this pencil case was a big hit with school kids! From Hasbro.
---

Who hasn't enjoyed a piece of Pez candy over the years?
---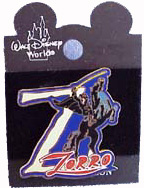 This pin is from Walt Disney World, circa 2001. Disney has released several other pins with their characters in Zorro costumes.
---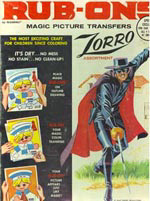 Another product from Hasbro. This one allowed you to transfer pre-printed pictures of Zorro onto other surfaces.
---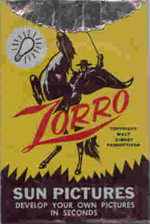 Pre-printed with images from the series, these Sun Pictures were developed by exposing them to sunlight.
---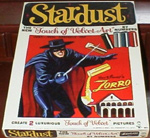 This velvet painting kit was from Hasbro, catalog #2821, and was sold in 1966. It contains two pictures.
---