Viewmaster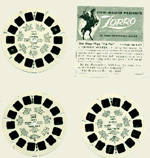 Most of us are familiar with the Viewmaster product - round reels of small pictures that appear in 3-D through a special viewer. There have been many different formats of the product over the years, and several corporate owners. The number of new releases is way down but it's fairly easy to pick up a plastic viewer and start enjoying these 3D trips to the past. For more information on Viewmasters in general please visit the Viewmaster Ultimate Reel List.
Zorro has been released on Viewmaster reels several times, beginning in 1958, under the catalog number B469. Each set of 21 scenes came on 3 reels. The cover art is the only appreciable difference between the different editions, as the 3-D pictures themselves were identical over the years. Versions were released both with a small booklet describing the photos and without the booklet.
The three reels in these packages are titled Don Diego Plays The Fox, Zorro Rides Tornado, and Zorro's Flaming Sword.