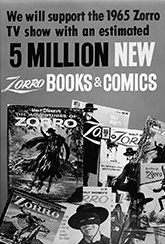 As soon as Zorro took to the air and the ratings soared, publishers rushed to get out stories of the masked man. Many of the old Johnston McCulley stories were reprinted, but there were also quite a few new books based on the Disney series. All of the books listed here were based directly on the Disney version and were licensed items, usually featuring artwork based on Guy Williams and other cast members.
Zorro books based on the series were released in a number of foreign languages and sold around the world. I've focused my own collection on English language texts, as reflected on this page. I have been gathering information on the foreign language editions and will add them to the site at a later date.
General reference books that have a brief mention of the series are not included. The Zorro comics are included on their own page. Magazine stories based on the series are listed below; magazine articles about the series can be found in the bibliography section.
A number of books were reissued when the series was repeated in syndication; many were just reprinted without changes, except for the cover price. The reprints are listed here if they have different covers, page sizes, etc.