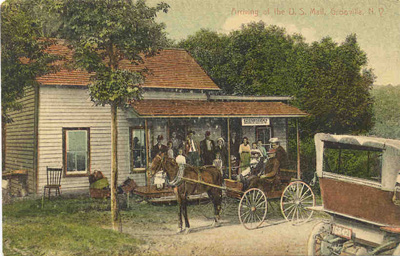 Arrival of the U.S. Mail, Grooville, N.Y.
WANTED
While not an Onteora card, it's interesting to see that Grooville was once a real town! Here's more information from Robert Oldmixon: That building served as Ranger Bill Donahy's family temporary home 1956-57 while the current home at the main gate was built. It is located just before the entrance to the lower lake road. By the way, this one way road was the only entrance to camp in 1956 and for Operation Igloos of 56 & 57. Pulling off in the mud to let an oncoming vehicle pass was risky and a pain in the butt. The current road from the rangers house was cut out of the woods in 1957.
Near Grooville, N.Y.
Another card showing that Grooville was once a real town. Postmarked there on July 1, 1924, it shows a car passing a horse-drawn wagon. This is probably along the road leading to Onteora. The message on the rear reads:
"Dear Uncle Will. I am having a fine time. I have been riding a bicycle. I can not bring you back any trout unless I can go a fishing in a lake. (signed) Howard"
Babbling Brook, approaching Grooville, N.Y.
Dated 8/9/07, this card features the stream we all know so well from our drives up to camp. The message on the rear reads:
"Dear Matilda: Am up here on my vacation, and am enjoying myself very much. How are you? Let me hear from you. Don't know where you are, so am sending this home. Beautiful country here. Your friend, Lillian Steuber"
The card was postmarked in Craig-e-Clare, another vanished post office in the area, and was addressed only to "Miss Matilda Koehler, Springland, Long Island." I've never heard of Springland and couldn't find any references to it.