Banners - wouldn't these look great on your wall today?

WANTED

First known use: 1959
Still available in 1963

Wauwepex
WANTED

Onteora
WANTED

Wauwepex - "Place of Good Water"
WANTED

Wauwepex - "Forty Years of Service" - 1961
WANTED

WANTED
More to come!
Belt Buckle - these are the only ones I have found so far. The one on the left is based on the jacket patch design from the 1960s, while the 1971 buckle features that years patch and neckerchief design.

Year Unknown


1968 Roundup
WANTED


1971
WANTED
Decals - turn anything into an Onteora collectible!
| | |
| --- | --- |
| Undated | 1971 |
Hat Pins - a fairly recent development, these pins can be worn on a Scout's hiking cap. They are shown larger than actual size. Thanks to Art Noble for the donation of these pins!


Issued in 1997 for the 80th anniversary of the Council.

Cub World '93 -
a very tiny pin indeed!

Issued in 1993 for a joint camporee held with Suffolk County Council

Issued for Buckskin Lodge 412

1987 Scout Show
WANTED

National Jamboree 2001
WANTED
More to come!
Keychain - just the thing to hang the keys to the Long House on!
Lanyard - I guess you could also call these bolo ties.

1986

The 1987 edition was red with blue lettering.


Made by the same company that made the Neal neckerchief slides.
WANTED
Onteora Money - this is the OSR equivalent of a wooden nickel. Made of a thin piece of wood, it reads "Good only at O.S.R. Trading Post. Good Until August 31, 1968".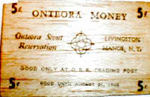 WANTED
Paperweight - A metallic paperweight from 1967
Piggy Bank - for C.O.P.E. participants at Onteora and Schiff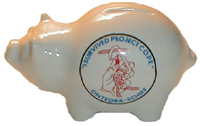 WANTED
Plates - I bet most Scouts would have been spending their money on ice cream or candy at the Trading Post instead of picking up one of these pewter plates. The Bi-Centennial plate was manufactured by the Art China Co. of Sebring, Ohio and measures 6" across. I don't have details yet on the others.

1976


1977
WANTED

1978
WANTED

WANTED
Click here for the next page of Trading Post merchandise, or click here to go back to the main Onteora page.
Please let me know if you have any Onteora or Wauwepex items for sale or for trade!! I do have extra copies of some of the coffee mugs available for trade. Otherwise, you can head back to the main Onteora page.