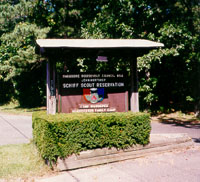 While Onteora was my favorite place to camp, I don't want to ignore Nassau County Council's other camp, Camp Wauwepex. Located in Suffolk County on Long Island, the 550-acre Wauwepex was an ideal place for weekend camping trips. In fact, my first troop, Troop 182 from Baldwin, would head out to Wauwepex almost every month. When it got too cold for tent camping, there were some great cabins to spend the night.

Camp Wauwepex opened in 1921 in Miller Place, then moved to the present location the next year. It has faithfully served campers from Nassau County ever since. As might be expected of a camp that old, it is steeped in Scouting tradition and history. For example, as mentioned in the history of Buckskin Lodge of the Order of the Arrow, the lodge had its beginnings in an honor society founded at Wauwepex back in 1923!

Ready to take a virtual tour of the camp? First, you might want to get familiar with the property. Wauwepex is located in the town of Wading River, NY, and is centered around the camp's lake, Deep Pond. Here's an overall topographical look: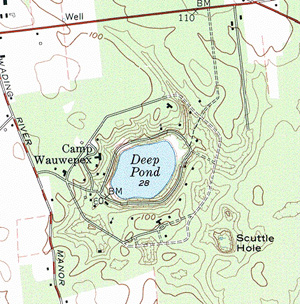 Want to see Camp Wauwepex from the air? Here's a satellite view: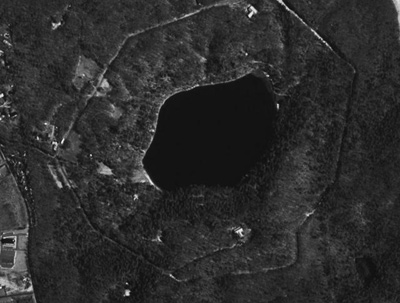 and a slightly closer view: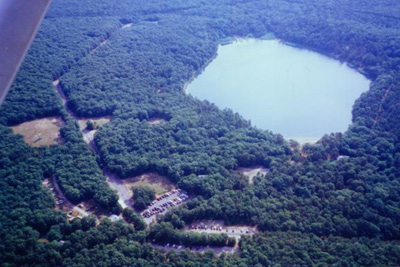 Here are several different maps of the camp:
The 1950 version is a bit rough, but it's the best one I've found so far that shows all three of the camps at Wauwepex.
Before we begin the tour, here are a few quick Wauwepex observations:
There were once three separate camps operating at Wauwepex, named Pioneer Division, Frontier Division and Indian Division. The dining halls were named accordingly, as Pioneer Hall, etc. The camp divisions are no longer used, and the dining halls are now Hickcox (formerly Frontier) and Hayden (formerly Indian) Halls. The old Pioneer Hall had been used for a while as a craft lodge but has since been demolished.
There was once also an outlying piece of property used for overflow camping. This section of the camp, which was formally known as the Ponderosa section, was better known as "Inchworm Land", for it was full of these tiny, wiggling and generally disgusting creatures. They would hang from tiny threads and get in your hair, face and most of all, your food. This 147-acre section of the camp was recently sold to the State of New York. While it's nice to be rid of the inchworms, this deal did call for the public to have access to Deep Pond. It will be interesting to see what effect this has over time.
Unlike Onteora, Wauwepex is no longer used for summer troop camping. As mentioned on the Onteora pages, attendance at Wauwepex had dropped in the late 60s, and by 1973, it had to share the annual patch with Alder Lake. Finally, after years of declining attendance, it was closed as a summer camp in 1976. The property does get a lot of use during Summer though, as local groups use it for day care and the Council holds Cub and family camping there. The property is used throughout the rest of the year for a variety of Scout activities, and local troops continue to use the cabins, lean-tos and campsites for camping.
The property has a new name these days: Schiff Scout Reservation. When the famous Schiff camp in New Jersey closed up, the Schiff family made a significant donation to the Council for honoring the camp's namesake, John M. Schiff, and thus the name transferred over to Wauwepex as well. The original Schiff Scout Reservation had been named for his father, Mortimer L. Schiff. The Council has had a long association with the Schiff name, as can be seen on this time-worn plaque on the property:
Erected by the Boy Scouts of America
Nassau County, New York
In Memory Of
MORTIMER L. SCHIFF
whose wise counsels and generous
gifts so greatly aided them in
securing for their permanent use
CAMP WAUWEPEX
President, Boy Scouts of America
May 6th to June 4th, 1931
Director for Nassau County Council
January 1st, 1920 to February 3rd, 1930
The Council bought the property in 1926 for $250,000. Not a bad deal!
Wauwepex means "Place of Good Water".
Here's a Wauwepex postcard from 1950.
Done with the history lesson? Then click here to begin the tour.
I will be adding to this section soon, but am looking for any additional information or pictures that anyone would like to share. Please e-mail me with your thoughts or suggestions. You can also find some more Camp Wauwepex patches here.
You can also head back to the main Onteora page.