Here's the official schedule for the day:
TIME
MILEAGE
ITINERARY (Description)
7:30
LOAD at YMCA (Eastern Queens) @ 240th St. and Hillside Avenue, Queens, NY
8:00
LEAVE via Clearview Expwy. to Throg Neck Bridge, to NYS Thruway north
10:00
86 miles
REST STOP Platteville Service Area
12:30
140 miles
LUNCH STOP Iroquois Service Area
4:00
160 miles
REST STOP Ontario Service Area (Call ahead to Niagara Falls)
5:30
60 miles
ARRIVE Niagara Falls, NY
Check-in at YMCA, 1329 Portage Rd.
6:00
SUPPER @ Round the Clock Restaurant (directions from YMCA clerk)
7:00
EVENING Make foot tour of Falls area; Check with Tourist Info Service
Niagara Museum 50 cents
Total miles:
446
From my journal of 1967:
Loaded bus and left from Hillside Ave. and 240 Street, Queens. We arrived at WMCA in Niagara Falls at 6:00 PM. Brought luggage into room and ate at "Round the Clock Restaurant". Saw Falls in evening.
Well, after months of waiting the big day was finally here - we were on our way to Philmont! There were families all over the place taking pictures of the daring explorers, and after a while we were more than ready to hit the road. We didn't get out on time, though, as one Scout got there late. By the time he finally got there he was none too popular...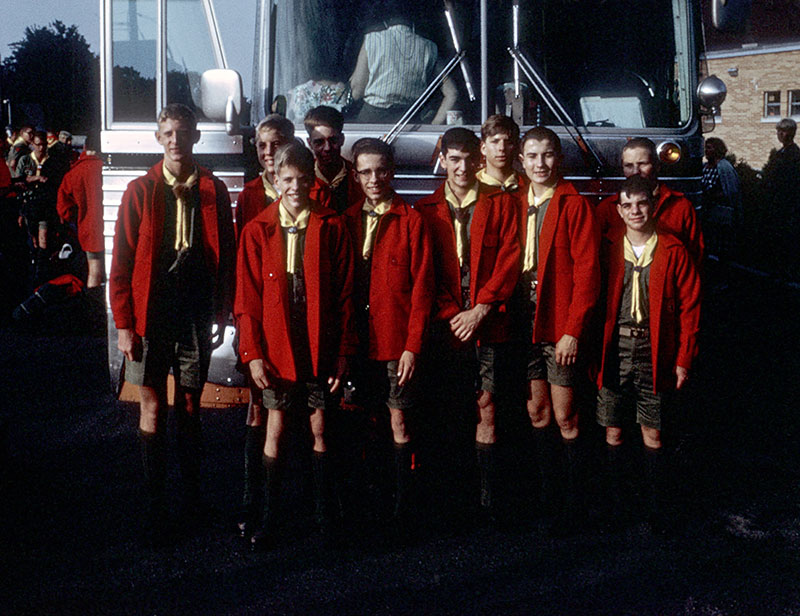 Crew #3 (L-R)
Charlie Berenson, Doug Hobbs, Jim Cotter, Tom Anderberg, Bill Cotter, Robert Spencer, Cory Morganstern, Bob Barker, Spencer Bell, Tom Gavin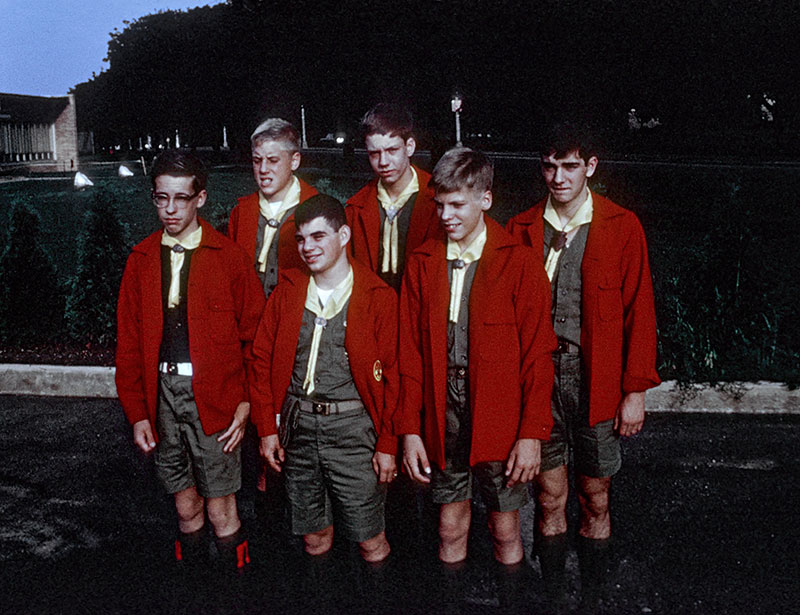 Part of Crew #3
Front: Bill Cotter, Spencer Bell, Jim Cotter
Rear: Doug Hobbs, Tom Anderberg, Robert Spencer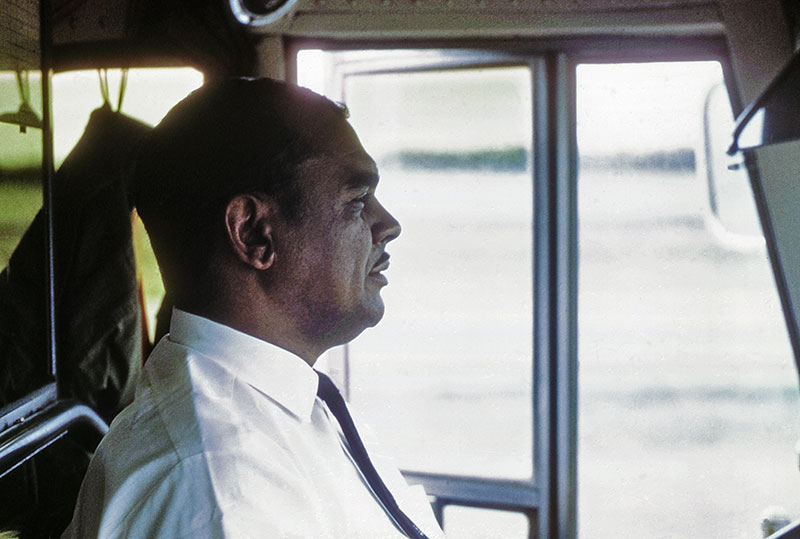 Jim Walker
The VERY patient driver of Bus 312, Suburban Transit Company
My pictures of our stop in Niagara Falls seem to have gone missing. Someday they might turn up, but just in case they don't, here's a picture taken by my brother Jim over on the Canadian side of the Falls.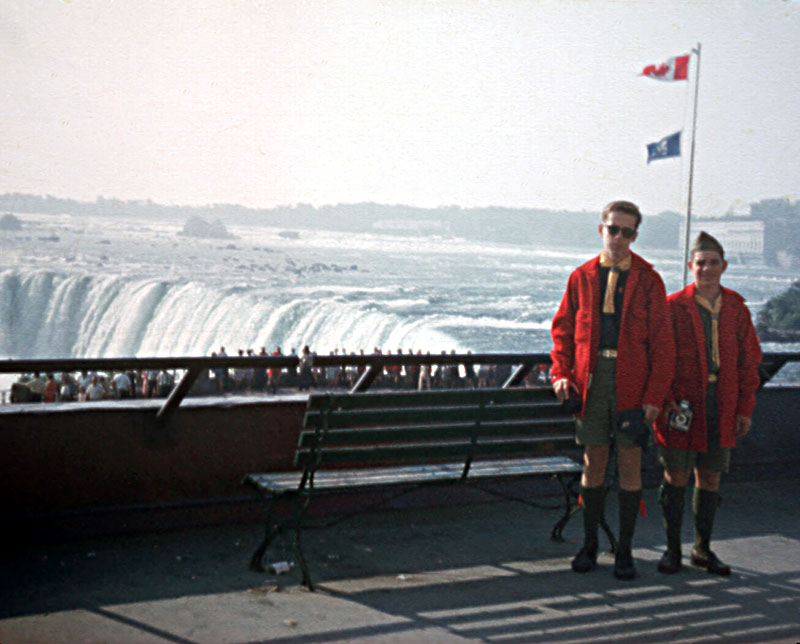 Niagara Falls
Bill Cotter and Spencer Bell
Whenever I think of this day I have to smile. I had been to Niagara Falls before with my grandparents, but my parents had never made it there. I called home that night and my dad asked how the falls looked, and I said something like "About the same as last time." I guess I was rather blase about it, and I later found out that as soon as we hung up he told my mother to start packing, they were taking the rest of my brothers to Niagara Falls.
When we got home we found a card waiting for us.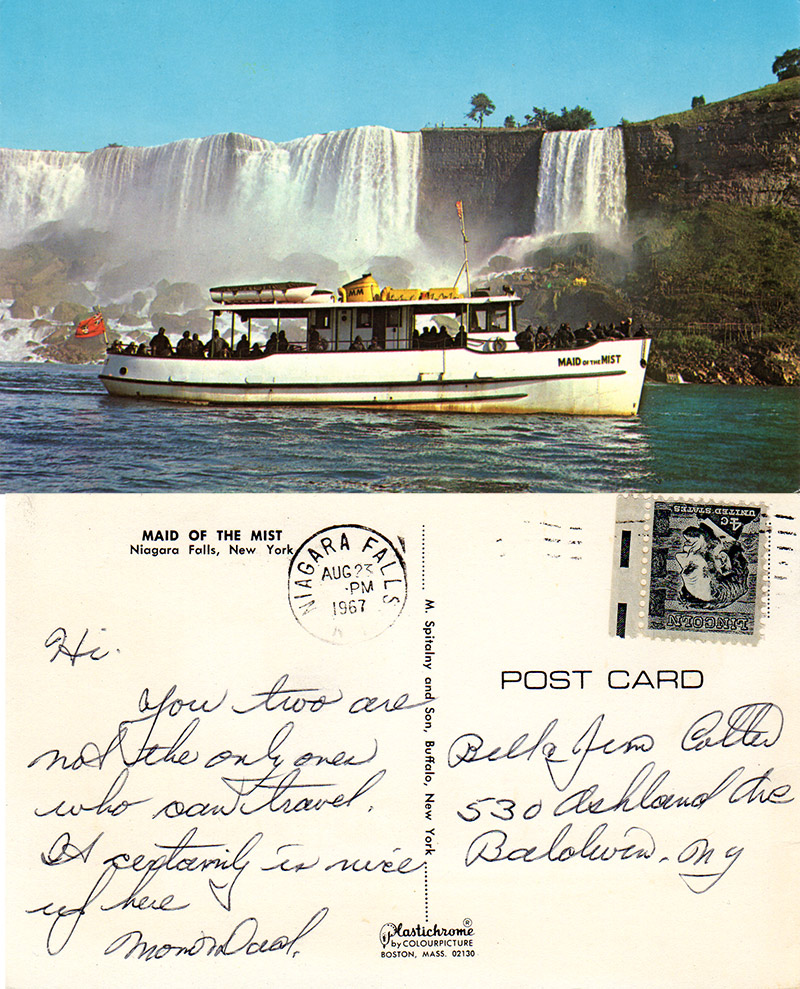 A postcard from Dad
Daily guide