Here's the official schedule for the day:
TIME
MILEAGE
ITINERARY (Description)
7:00
BREAKFAST at A.F.B.
8:00
12 miles
Take Rte 15 to Vaughn
20 miles
Take Rte 20 to Simms con't on Rte 20 south thru Bowman's Corner - Lincoln - Ovando to
123 miles
MISSOULA (Lunch)
Take Rte 90 (10) NW thru Superior - St. Regis to Wallace
125 miles
Supper, sleep at Star Dust Motel
Total miles:
280
From my journal of 1967:
Left Malmstrom after eating. Passed thru Helena National Forest. Passed by Helena (capitol of Montana). Went thru Continental Divide for first time. Ate lunch near a river in Missoula (The Blackfoot River). Later crossed Idaho border. Stayed at Wallace, Idaho in Stardust Motel; 50 miles from Jamboree site. After supper some of us went to see the town. Mr. Tobin, Chuck Berenson and I went with a Mr. Keetor of the U.S.D.A. to the top of Sunset Peak (elev. 6424). His son Chuck Keetor is a Forest Ranger there. We went up so Chuck could get some supplies & come into town. We had a great time the whole night. We went up a narrow dirt road. Mr. Keetor stopped at a very large silver & lead mine & showed us ore (silver). We saw many mountains on ride up. Once on Sunset we saw Jamboree site (50 miles away) & Canadian Rockies. Saw many mountains since Sunset is highest in area. Chuck showed us his radios and fire equipment. We took the drive down in the dark - nerve wracking, especially when we passed a spot where Chuck's friend was killed in an avalanche of rocks. Talked Scouting since Chuck is an Explorer (Eagle with 3 Palms).
I sure took a lot of notes that day.
From a letter home:
We are passing thru quite a lot of mountains, and have passed thru the Continental Divide. I had to have my glasses fixed but they're fine now. We have seen mesas, buttes, plateaus, plains & now snow-capped mountains. All of us are enjoying the trip. Almost every tree is a pine, & there are a lot of trees. We can now see a very swift-moving river. The best thing I saw was the Badlands in the Roosevelt Park. Having a grand time.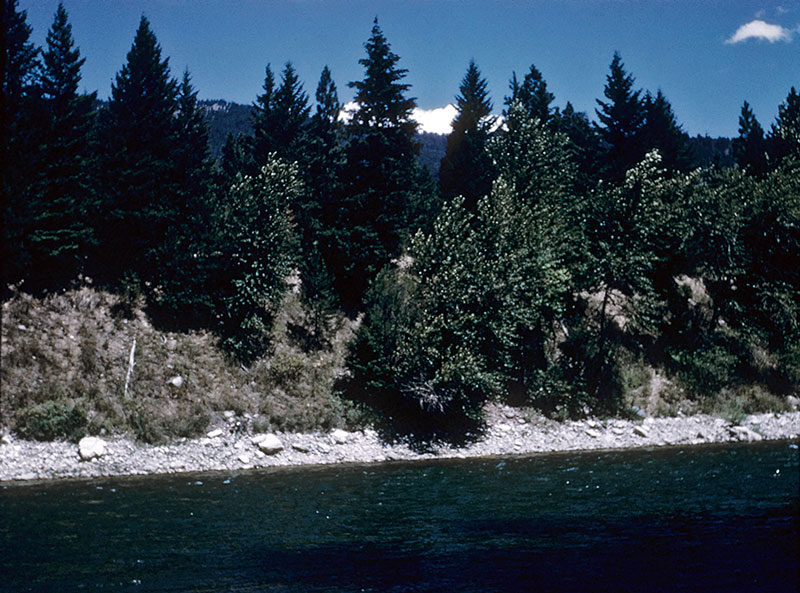 The Blackfoot River
We stopped for lunch on the bank of this river. It was great to get out of the bus, and the scenery was great. The river was very cold, so no one succumbed to the temptation to "accidentally" fall in for a swim.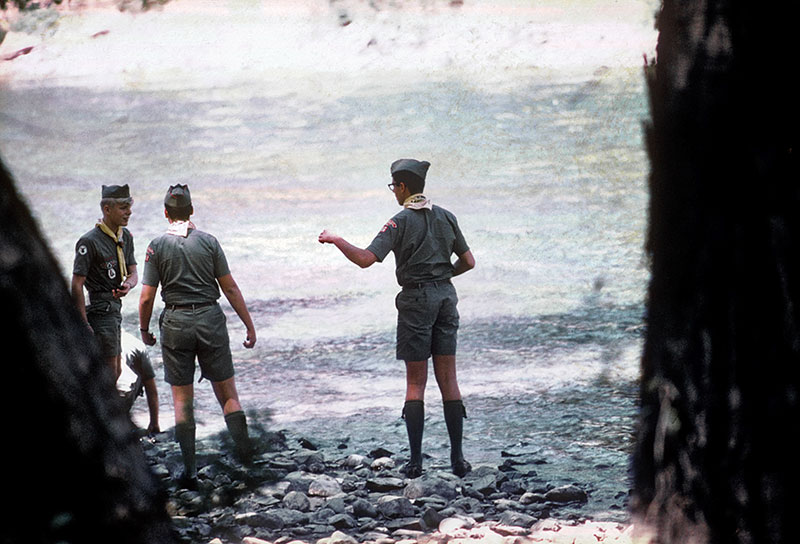 Exploring the river bank
I don't know the names of the other two Scouts, but that's Tom West on the far left.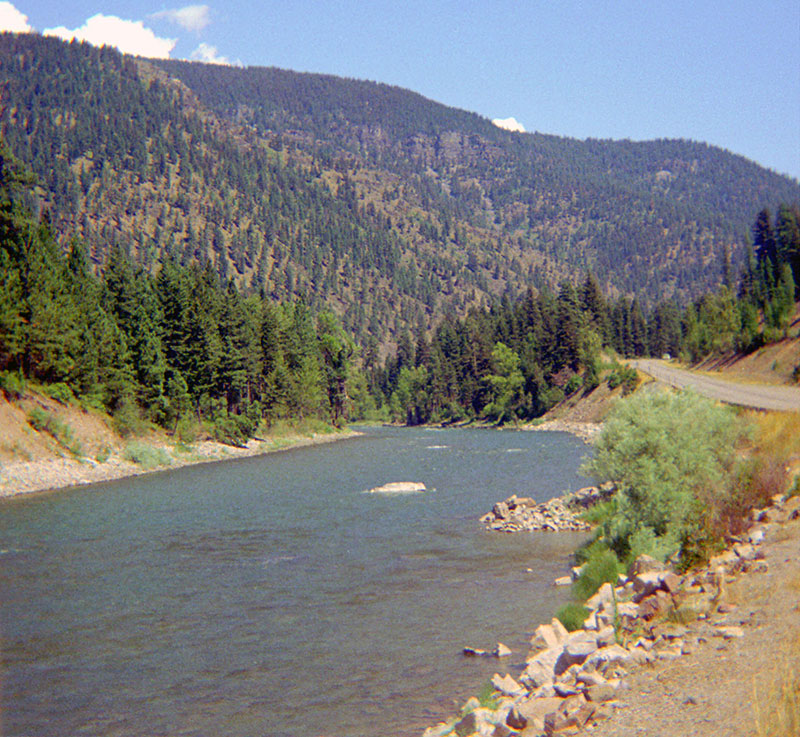 The Blackfoot River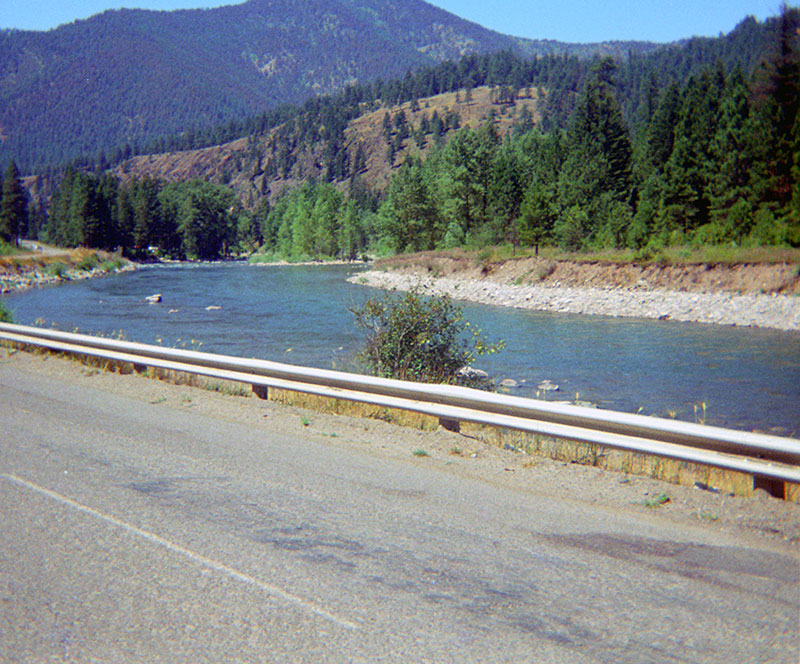 The Blackfoot River
Wallace, Idaho was quite a place. When we stopped in a local store for a soda, the clerk wanted to know if we wanted "pop". First time I had heard that. Then, the locals wanted to know what we were carrying in a sack. To me, a sack was a burlap bag for potatoes, not a paper bag for soda - or pop. Wallace is also well remembered for the reaction of the local girls to a bus of 40 teenage boys pulling into town. Our chaperons had to chase them away from the motel, where the young ladies had been busy tossing pebbles at the windows to get our attention.
The ride up the mountain was outstanding. To this day I remember it every time I have to drive on a mountain road, especially one with switchbacks. On this one, they had to back up so far in some spots that the rear of the Jeep was actually hanging out over the edge of the hill - something you don't easily forget when you were the guy in the back! It was a great experience, one that totally convinced me to never become a Forest Ranger!