Here's the official schedule for the day:
TIME
MILEAGE
ITINERARY (Description)
6:30
CHURCH SERVICES
7:00
BREAKFAST Round the Clock Restaurant
8:00
LEAVE Niagara Falls via Toll Br., via Queen Elizabeth Way
to Hamilton over Burlington Bridge
via 1st interchange over bridge under Queen E onto Ont. #2 w.
to Ontario Rte. #6 no. (signs to Morriston)
GROCERIES Morriston, 1/2 mile from #401
Via Ont. 401 west towards Windsor
REST STOP: 1st Service area west "Coachstop"
12:00
LUNCH Along roadside area 24 miles east of London
2:00
193 miles
ARRIVE Windsor. Cross over Ambas. Br. into Detroit
via John Lodge & Edsel Ford Expy
to US 12 Via Interstate 94 to Battle Creek
4:30
ARRIVE Battle Creek, Custer AF Station
Enter northside on Dickman Rd.
Check-in base gym (overnight)
Evening; Gymnastics & movies
DRIVER BOQ
Total miles:
393
From my journal of 1967:
Left WMCA. Ate at previous restaurant. Stopped at the Falls on the Canadian side. Passed through Ontario, Canada. Later we passed into Michigan and passed through Detroit. Saw signs of riots. Slept and ate at Custer Air Force Base in Battle Creek in Battle Creek, Michigan, near Fort Custer. Saw "Heat of the Summer" with Sidney Poitier in evening.
I remember the drive through Detroit fairly well. The city had just been through a riot caused by rising racial tensions, and burned buildings and cars lined both sides of the streets. Being in a bus of 40 white teenagers stopped for a light on one of these streets stands out, as some of the residents mistook us for tourists there to enjoy their problems, and thus were not too pleased. We were glad to get out of the area before their yelling led to anything else.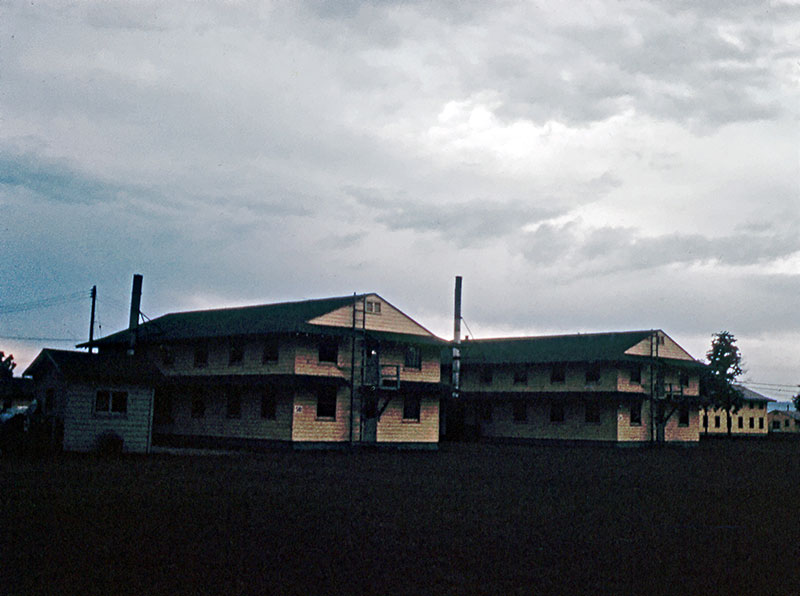 Custer Air Force Station
Custer Air Force Station was an interesting place to spend a night. These barracks had been built for World War II and by 1967 they were well past their prime. The Air Force told us we had to stay off the second floor and balconies, as a Scout had fallen through one of them the week before! I don't remember too many of us being interested in seeing if our building was in any better shape. It had been a long day and after the movie everyone was content to just get some sleep.
Custer Air Force Station closed in 1969.