Here's the official schedule for the day:
TIME
MILEAGE
ITINERARY (Description)
BREAKFAST AT STARDUST HOTEL
8:00
107 miles
LEAVE Wallace on 90(US 10) to Missoula
114 miles
CONTINUE 90 (10-12) to Butte
88 miles
CONTINUE to Bozeman
139 miles
TAKE Rte 191 to Idaho-Wyo. border
PROCEED TO OLD FAITHFUL
Eat at Old Faithful Cafeteria
Sleep at 9 Quad Cabins (Southside of OFC)
Total miles:
448
From my journal of 1967:
Left motel early. Passed into Montana, drove past Butte. Crossed into Wyoming. Went to Yellowstone, toured area briefly. Slept in cabins. Same sleeping group as before. Tom & I slept in bunks. Also heard small Jamboree patches worth $10 each.
I remember driving past Butte. I had wanted to visit it for years, ever since reading about the Anaconda Copper Mine and other historical accounts of the area. We only got to see it as we passed by, but it didn't look like we were missing much.
Today, 50 years later, those Jamboree patches are selling for pretty much the same thing on eBay. I'm glad I didn't invest heavily in them.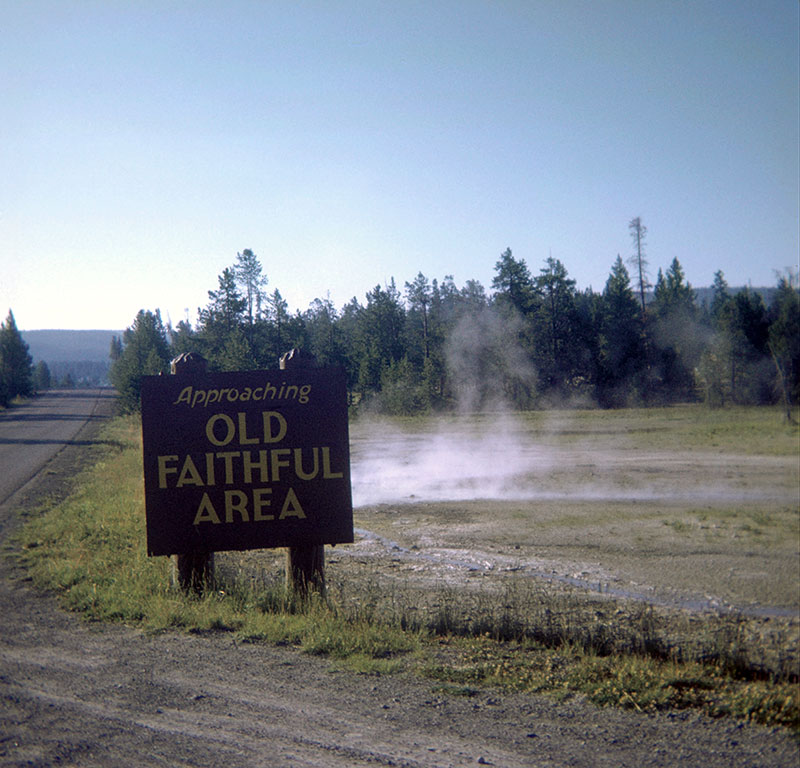 Our first view of Yellowstone
Yellowstone was a great stop. I had never seen anything like a geyser before, and the sight of steam and water popping up out of the ground was certainly unusual. We were lucky, as the park was relatively empty.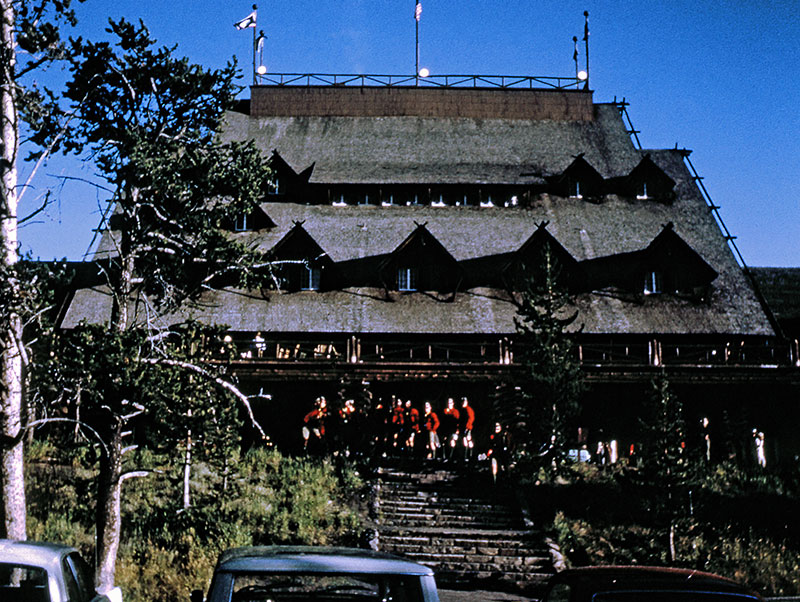 Expedition 810-B in front of Old Faithful Lodge
The lodge was quite an impressive building. No wonder Disney copied it for one of their hotels! The cabins we stayed in were far less impressive, but at least they were warm. It got so cold while we were there that it snowed - something I didn't know could happen in August.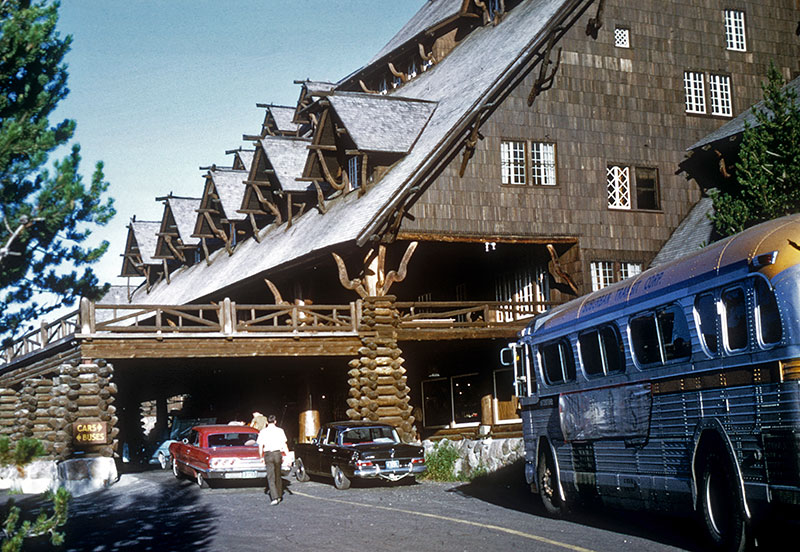 Our bus at Old Faithful Lodge
I believe the bus had "Philmont or Bust" or some similar sign on the side. You can make out something on the side in this shot.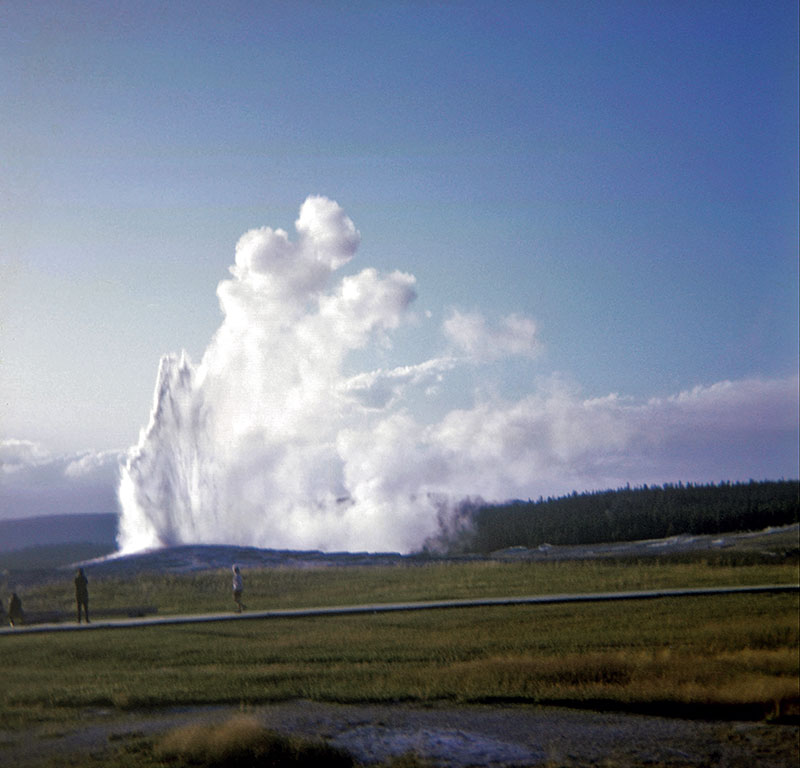 The first view of Old Faithful
I have to say Old Faithful impressed me. While it doesn't quite go off on a perfect schedule, it was pretty predictable. I was surprised at how much water it actually spews out, as the picture shows.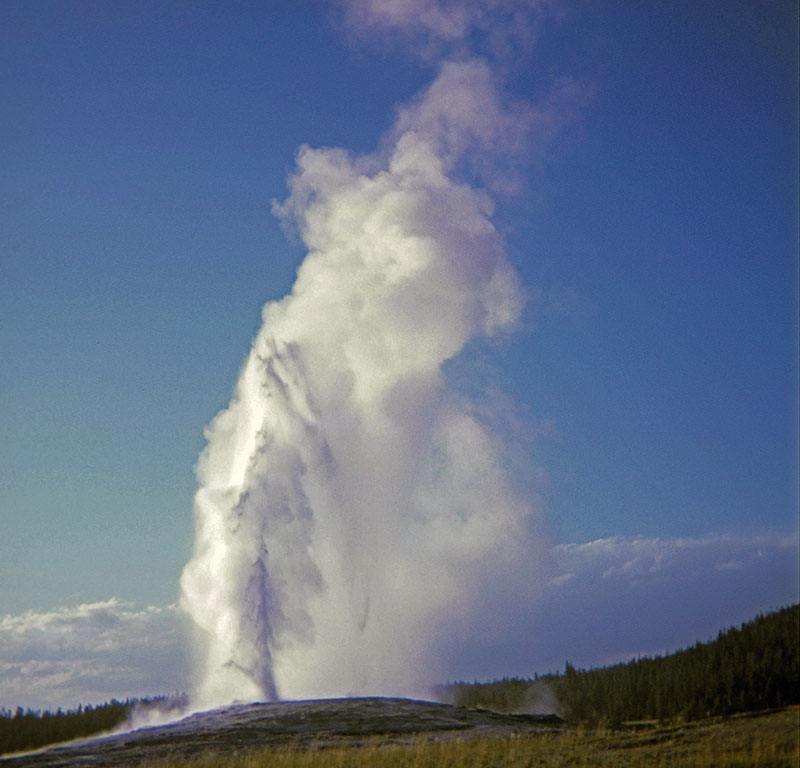 Another view of Old Faithful
There was less wind at this eruption, which helped show how much pressure was behind it. It takes a lot of power to blow water that high in the sky.