Here's the official schedule for the day:
TIME
MILEAGE
ITINERARY (Description)
6:00
BREAKFAST AT OLD FAITHFUL CAFETERIA
7:00
49 miles
TAKE Rte 89-287
48 miles
TAKE Rte 89-187 to Jackson Rest Stop
97 miles
DETOUR site of Old Fort Bonneville
75 miles
ARRIVE Pinedale, Wyo.
98 miles
ARRIVE Rock Springs, use new bypass no.
76 miles
ARRIVE Creston, Wyo, Continental Divide sign.
ARRIVE West Laramie
140 miles
ARRIVE Laramie via US30-187
SUPPER
EVENING ACTIVITIES
Movie downtown, Laundromat in Crane Hall
Total miles
583
From my journal of 1967:
Got up at 5:30, ate, packed, toured area. Film bags expand from lack of air pressure, which bothers some boys, but not me. Drove through Yellowstone - saw bears, got picture. Gavin showed us around since he was here before. Drove through Grand Teton, got lost and lost one hour. Grand Tetons impressive. Saw Painted Mountains. Took a lot of pictures. Got into Laramie after 10 - went to bed.
Another great day. As anyone who knows me can attest, I am not a morning person, but this was a morning that anyone would enjoy. Walking through the mists of Yellowstone as the sun rose through the park was absolutely breathtaking. The beauty of the area was made even more impressive by the silence. The only sounds were steam vents hissing and our own words of amazement. The two National Parks remain some of the most impressive sights I have ever seen.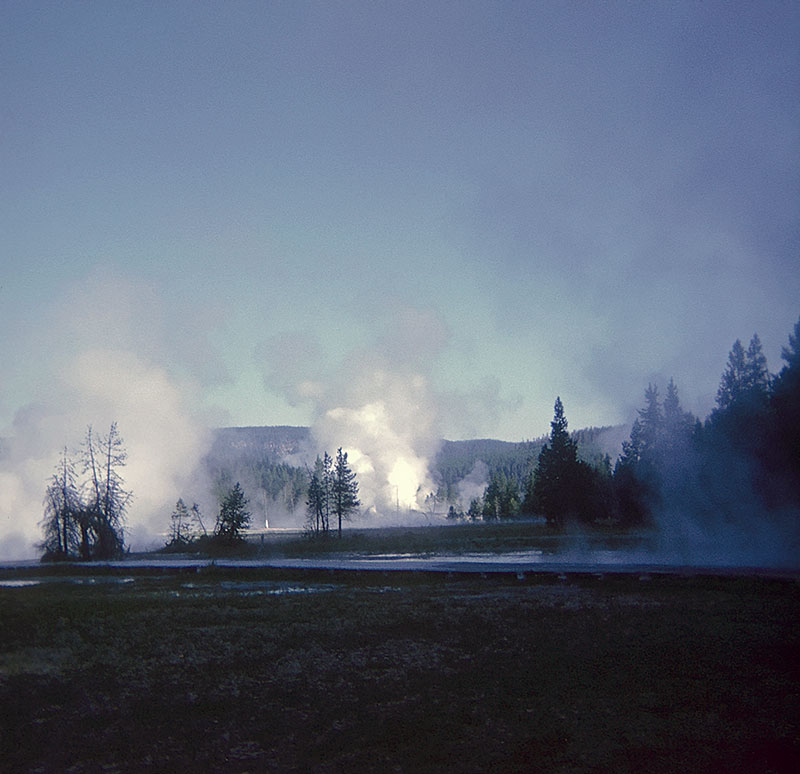 Dawn at Yellowstone
As the sun rose, there were steam clouds rising from the ground in every direction. It was very cold - in fact, it had just snowed, even though it was early August.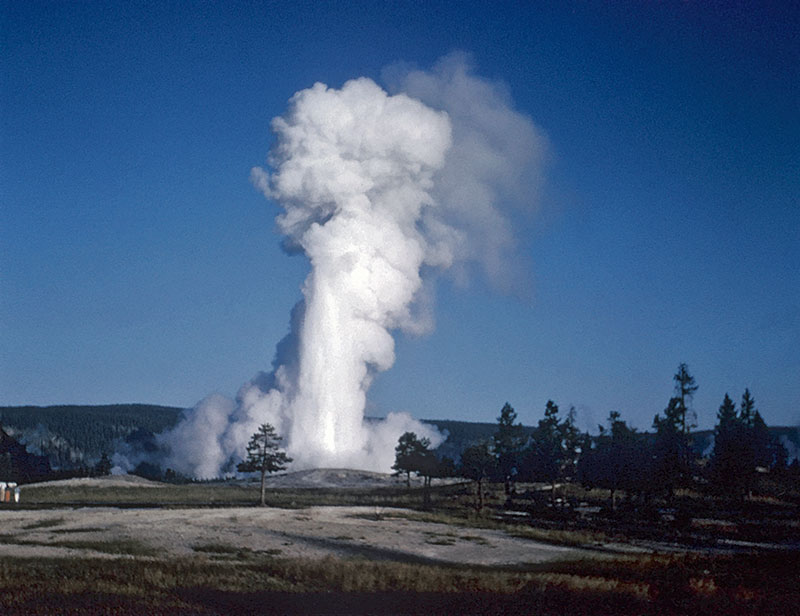 Giant Geyser gets started for another day
While not as famous as Old Faithful, Giant Geyser is the biggest in the park, with eruptions as high as 250 feet and lasting one hour.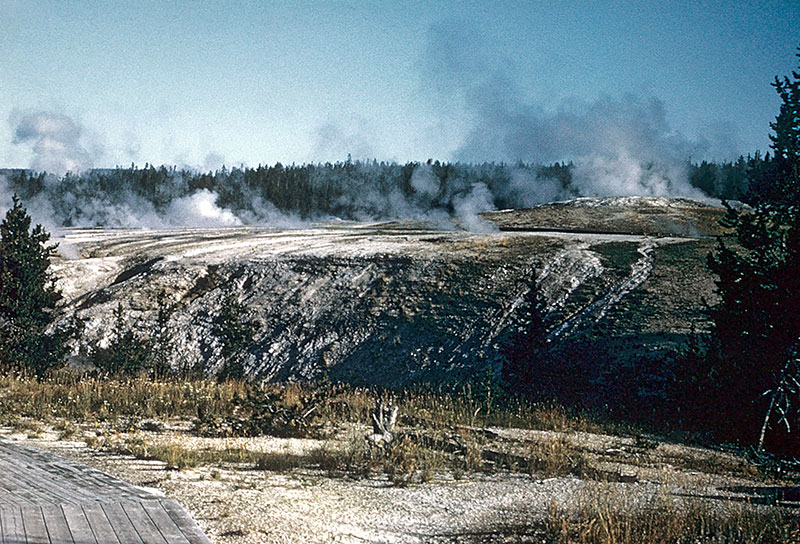 Hill stained by mineral-laden water
This was one of the many signs of mineral-rich water. Besides being hot, the water popping up out of the geysers and other thermal vents evidently had a very high mineral count. This was particularly evident in some areas where the smell of sulfur was almost overpowering.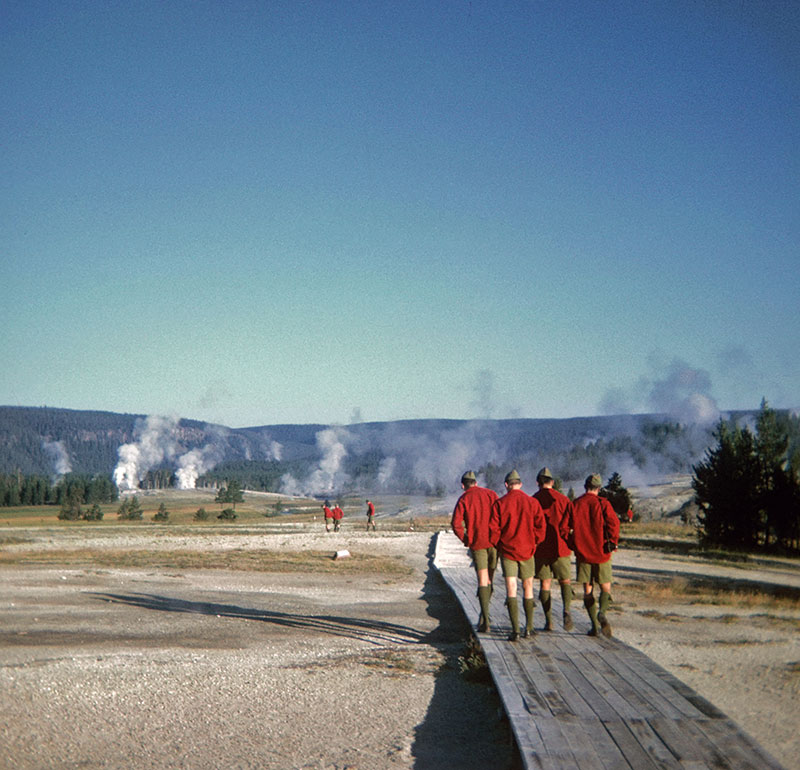 Red coats everywhere you look
This is the Middle Geyser Basin. The ground is so thin in much of the area that you would break through the crust and get burned if you were walk on it. Instead, there is a boardwalk that takes you safely past these dangers. Looking at it now, and realizing there weren't any guardrails, I can only wonder if they have changed it for today's litigious society.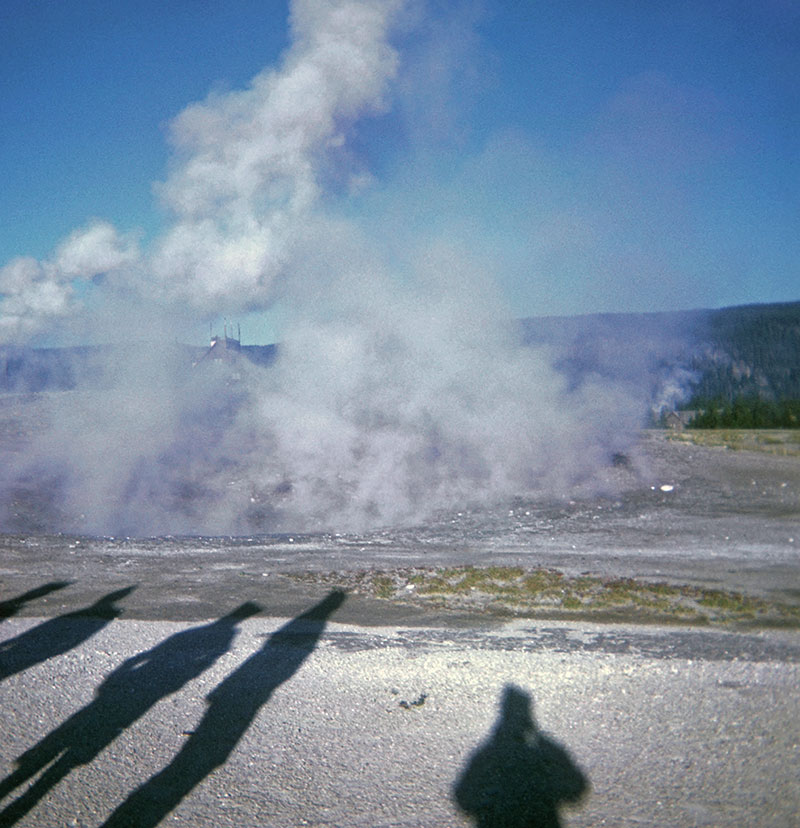 A pond of boiling water
The ultimate in hot tubs? I imagine it would be a very short dip indeed.