Here's the official schedule for the day:
TIME
MILEAGE
ITINERARY (Description)
7:00
BREAKFAST Dickinson State
8:00
29 miles
LEAVE Dickinson - Rte 94 to Glendive. Take 205 (Bear NW) to Circle
88 miles
REST STOP Jamestown (Con't on 10-83)
195 miles
SE on Rte 20(87) to Lewiston
Lunch as time permits
107 miles
LEWISTON: to Great Falls on Rte 87 (20-789)
PROCEED TO GREAT FALLS A.F.B.
Supper - sleep at Great Falls A.F.B.
Total miles:
331
From my journal of 1967:
Left Dickinson early & soon passed Montana border. Beautiful countryside. Entered the Rocky Mountains. Arrived at Great Falls & stayed at Malmstrom A.F.B. Went to movies and saw "Banning". Slept on gym floor. Now a 1-1/2" hole.
I can't imagine how anyone could even try to blow up an air mattress with a 1-1/2" hole in it.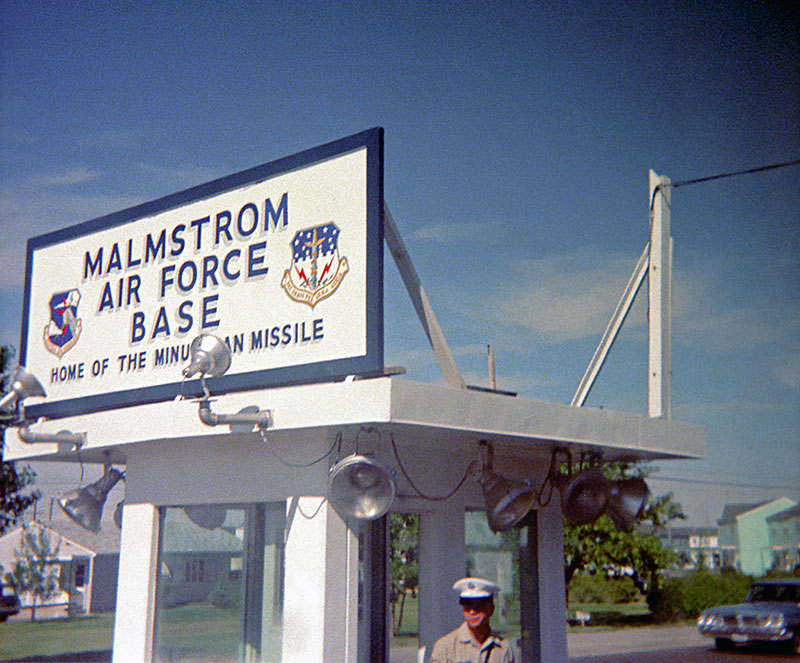 Malmstrom Air Force Base - Main Gate
Visiting Malmstrom was a distinct change from the older bases we had stayed at up to then. The place was huge, modern looking and very busy. There were several different youth groups staying in the gym, so we found a spot off to one side hoping it would be a bit quieter at night. It wasn't.