An introduction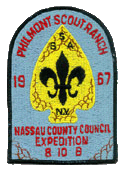 In 1967 I was the happy winner of an essay contest co-sponsored by the Boy Scouts, Newsday and the Long Island Lighting Company. The subject? "How Electricity Powers Progress". I probably still have a copy of that epic work around here some place, but if not, the world hasn't lost much. Winning the contest was important to me, though, for besides getting a neat pen and pencil set and my name in the paper, I also was given a gift certificate for camping. Instead of another summer at Onteora Scout Reservation, as fun as that might be, my parents put in the extra money and I was thrilled to learn I would be going to Philmont Scout Ranch in Cimarron, New Mexico.
The trip, simply put, was great. I saw more of the United States that year than before or since. It was a real physical test, one that would kill me today, but I enjoyed every minute of it.
During a summer vacation in 1999 with my family I was near Philmont and decided to stop back again for a quick visit. Although my hiking this time was pretty well limited to a path between the parking lot and Trading Post, the visit re-awakened some great memories of the past. I dragged out my ancient slides and other memorabilia from the trip and started putting this little effort together. I had been meaning to copy the pictures for my brother, Jim, who was also on the trip, and due to a new slide scanner could finally do so.
I kept a journal of each day's events on the road and have used that as the basis for this site. I also took a lot of pictures. I can't recall what kind of camera I had but it was likely an Instamatic due to the square format of the slide images. After the trip I borrowed slides from Harold Snedeker, one of our leaders, and possibly some of my fellow Scouts. We had a rudimentary slide copier at my high school, but without any instructions, so some of the images are less than ideal.
When I started I was using a HP PhotoSmart S-20 scanner, which scanned at 2,400 DPI. Disk space was expensive and connection speeds were slow, so I kept the images pretty small. A few years later I redid the site with a 2,900 DPI scanner. Now, in 2016, I'm redoing the site again, hopefully for the last time, with a 4,000 DPI scanner and files sized for modern connect speeds. Of course, though, people are likely to be viewing this on a phone so we're back to small pictures all over again.