From my journal of 1967:
Stayed in New Dean all day. Went to talk on paleontology & found leaf fossils. Spent time on conservation project. All day sky has been cloudy, with rapid changes. Slight rain. As I write this sun is going down & sky is clearing. Our ranger left after breakfast. We are in a valley. Have seen deer, rabbits, coyotes. Having a great time.
Reading the journal brought back a memory and a smile. We all were thrilled to find fossils, so we each took some with us as souvenirs. Some of us took quite a few, and seeing as how they were in some good-sized rocks, they were heavy. I carried mine for the rest of the trip, along with all of my gear and food, and proudly brought them home. Later, when I looked for them, I found out that my mother had tossed them out, thinking they were just a bunch of old rocks. She also tossed out some pieces of copper ore we picked up later on the trip. Carrying all those rocks sure seems silly today.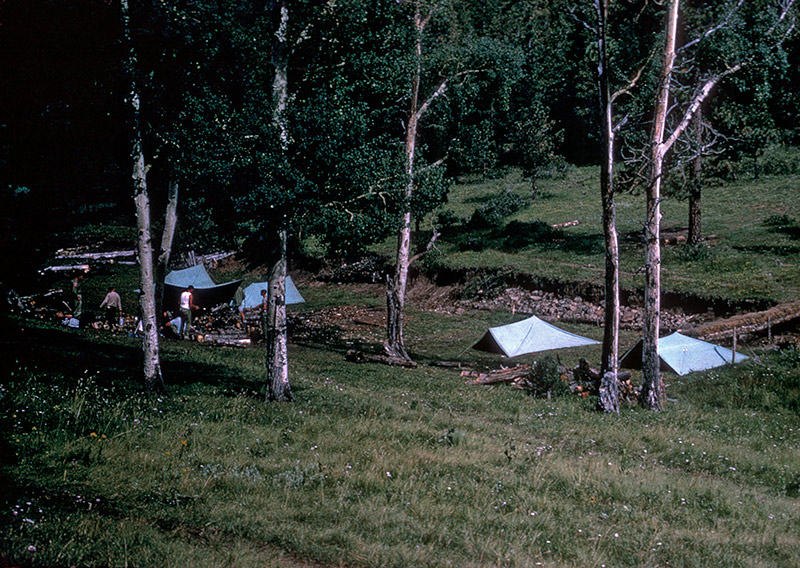 A beautiful setting for a campsite
This was a great spot to camp. Once again we were alongside a stream. The water was cold, but still fun to fool around in. There were grassy meadows in every direction, with some groves of trees. One of our better campgrounds.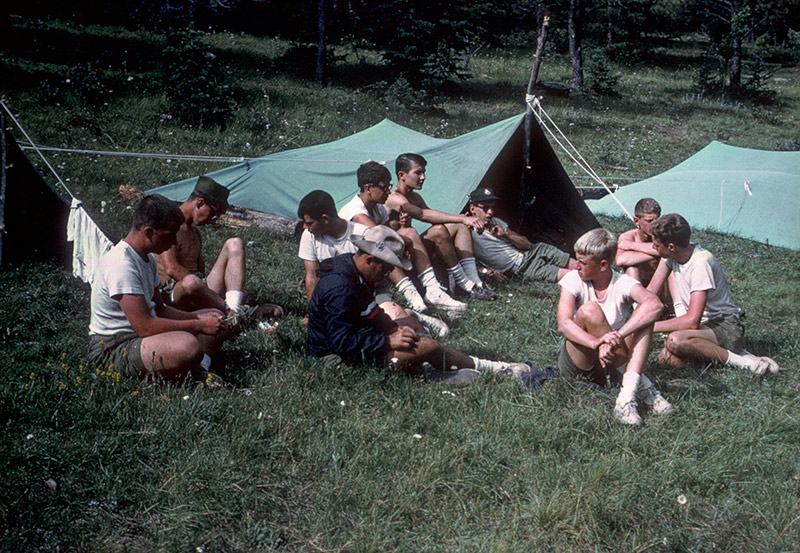 Taking it easy
This must have been after our conservation project - we all look glad to not be moving. Notice the uniforms are nowhere in sight.
I don't remember much of anything special about the day other than the campsite. It's funny how I had forgotten that we spent a whole day in one place, as I had remembered always being on the trail each day.