Here's the official schedule for the day:
TIME
MILEAGE
ITINERARY (Description)
7:00
BREAKFAST Custer AF Base mess hall
7:30
67 miles
LEAVE Battle Creek via Interstate 94 west to Chicago
CROSS Indiana line at Bridgman
36 miles
REST STOP: New Buffalo, Michigan via Indiana Toll Rd (INT. 94) through Gary to Chicago
10:00
53 miles
ARRIVE Chicago on INT 94 SKYWAY
10:30
TOUR Museum of Science & Industry
LUNCH Cafeteria inside Museum
12:00
LEAVE Museum via US30A north past mus.
jog over to Lake Shore Dr. N. past skyline. Turn fast left at Navy Pier
stay in left lane w. bound, follow INT 94 signs to NW Milwaukee Pkwy.
Once on INT 94, stay left, follow INT 90 signs going to "O'HARE APT"
because INT 94 veers N. to Milwauk.
3:45
145 miles
ARRIVE Madison, Wisconsin (Call Camp McCoy)
4:45
97 miles
Continue on Rte 90-94 then 12-16 to Tomah
5:00
ARRIVE Camp McCoy, Wisconsin
Have supper
Report to Bldg #1753, Lt. Manuel P. Finazzo, Adjutant
Total miles:
398
From my journal of 1967:
Ate breakfast at Custer A.F.B. Left very early. Passed through Gary, Indiana. Went through Illinois and came to Chicago about 10:30. We toured the Museum of Science & Industry for 1 hour (wasn't enough time). Ate lunch in museum. Crossed into Wisconsin. Stayed at Camp McCoy Army Base near Tomah, Wisc. Swam in eve.
From a letter home:
At Camp McCoy. This is a real new camp - they still burn coal for heating. Real busy - must be 3 people moving around a day! Last night they had artillery practice and fired flares all night during the war games.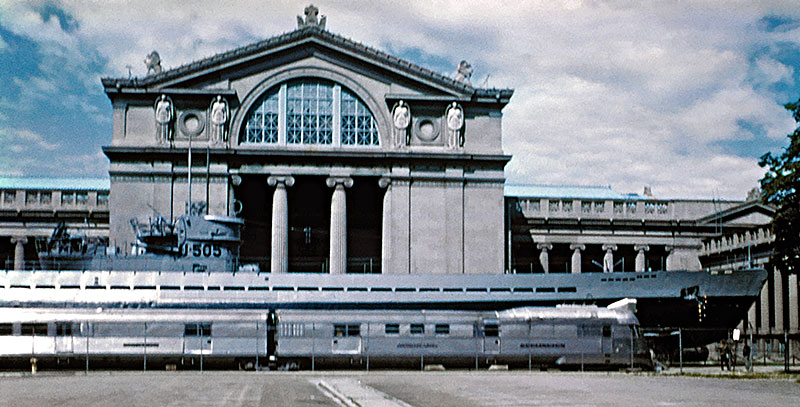 Museum of Science and Industry
The Museum of Science & Industry is a great spot to visit, and highly recommended if you visit Chicago. Although we were only able to tour the museum for an hour, it was definitely the high point of the day. The submarine pictured here, the U-505, is a German U-boat captured during World War II. It has the distinction, I believe, of being the first warship captured on the high seas since the War of 1812. It would be about 30 years before I was able to return and explore the rest of the museum, including the recreated coal mine underneath it. A wonderful place. Oh, the train is the Zephyr, the first streamlined diesel train.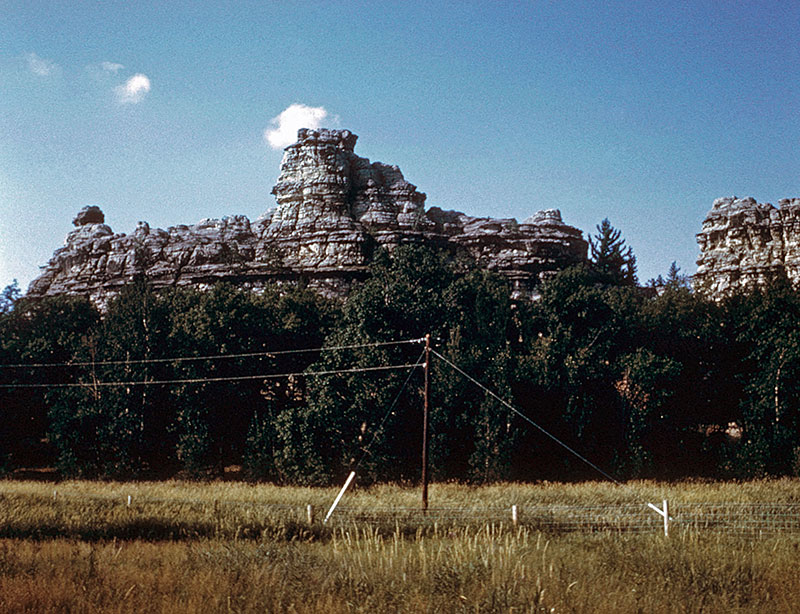 Rock formation near Tomah, Wisconsin
Just before we got to Camp McCoy (which looked exactly like Custer Air Force Station from the night before - identical wooden barracks) we passed by some interesting rock formations. After several days of flat ground they made for an unusual sight.